3D Roller Skin Scrubber Kit
3D Roller Skin Scrubber Kit
Two Buttons & Easy to Use
1. Long press boot, the default cleansing mode - Red light
2. Press again, moisturizing mode - Blue light: skincare product import mode.
3. Press the button for the third time, lifting mode - Greenlightï¼?Skin lifting mode
4. Press the EMS Button: turn off the skin scrubber by default and enable EMS mode "Low"
5. Press again, EMS mode "Medium"
6. Press the button for the third time, EMS mode"High"
Repeat steps 4, 5, 6 to adjust the intensity of the EMS mode.


Deeply Clean Blackheads
Utilizes 30000/s sonic vibration technology to clean the pores' dirt. It is effective for blackheads removing without pores opening, making skin moist and bright.
Warm Tips:
1. Clean the skin scrubber before and after use.
2. Please make sure your skin is wet when using the cleansing mode, and use it 2-3 times a week.
3. Don't use a skin scrubber on the damaged skin.
4. No washing, the facial scrubber isn't 100% waterproof.


EMS Microcurrent
Stimulates muscles to produce more ATP which is an important substance to form collagen. Under the effect of EMS microcurrent, the skin becomes more elastic.
More Than a Face Roller
This roller not only works great on your face but also neck, arms, and more! Treat your skin well every day.
The top benefits of 2-in-1 Beauty Device
Deep Cleaning & Sonic Vibration Technology & EMS Massage
Better than traditional blackheads remover, you don't have to open the pores before cleaning, but it will have a deeper clean effect if you stick to use it.


EMS Microcurrent Anti-aging Face Roller
Helps to improve facial contour & facial tone, etc.
Microcurrent - One of the hottest innovations in the anti-aging industry.
It is a low-level current that mimics the body's natural current and can provide both instant and cumulative anti-aging results.
Many top spas and beauty parlors are using it for facial contouring, toning, and firming of aging skin.

Features:
304 ABS
EMS Two Rollers
Sonic Vibration Probe
Modes Adjustment
USB Charging
Dustproof Cover
8Pcs Blackhead Acne Remover Comedone Extractor Tweezers Tool Kit - (with Box)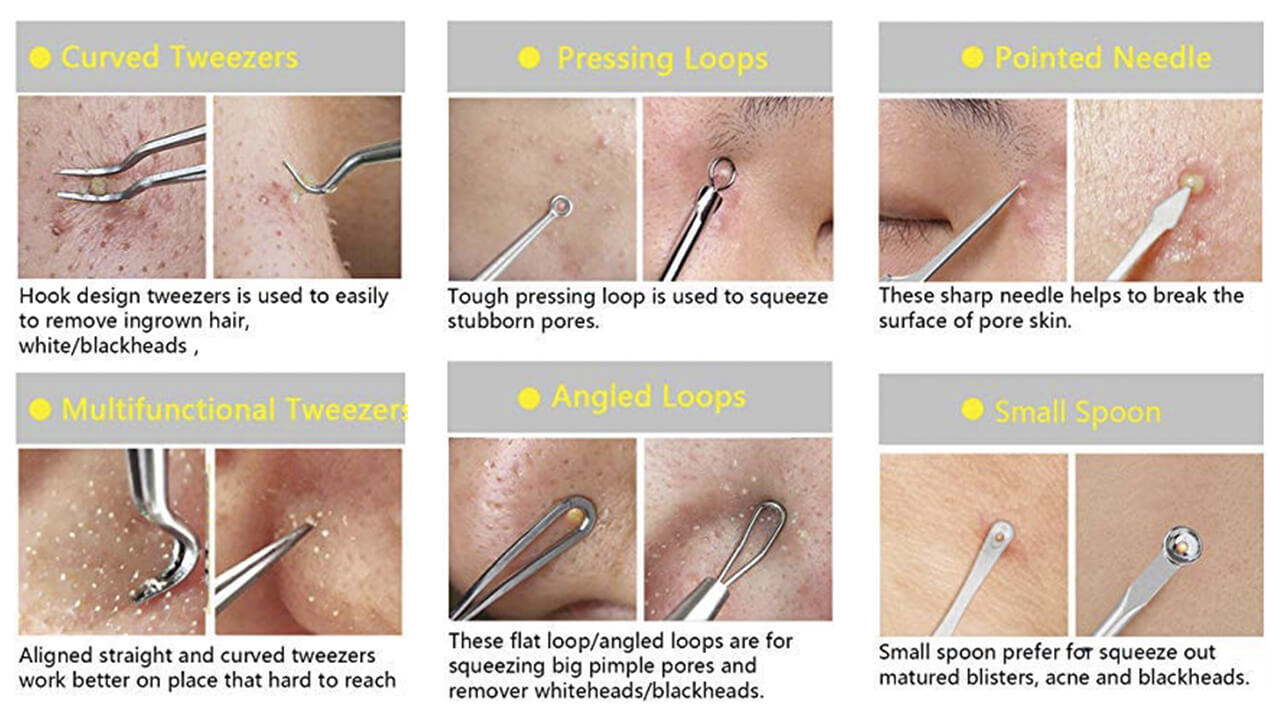 2 PCS Silicone Face Mask Brush- Suitable for sensitive skin face and body



100% Natural 10-Count Compressed Facial Sponges - (Reusable)


Compressed: 2.6" (65mm) in diameter and 0.04" (1mm) in thickness.
Hydrated: 2.9" (73mm) in diameter and 0.4" (10mm) in thickness.



Two Buttons & Easy to Use
1. Long press boot, the default cleansing mode - Red light
2. Press again, moisturizing mode - Blue light: skincare product import mode.
3. Press the button for the third time, lifting mode - Greenlightï¼?Skin lifting mode
4. Press the EMS Button: turn off the skin scrubber by default and enable EMS mode "Low"
5. Press again, EMS mode "Medium"
6. Press the button for the third time, EMS mode"High"
Repeat steps 4, 5, 6 to adjust the intensity of the EMS mode.


Deeply Clean Blackheads
Utilizes 30000/s sonic vibration technology to clean the pores' dirt. It is effective for blackheads removing without pores opening, making skin moist and bright.
Warm Tips:
1. Clean the skin scrubber before and after use.
2. Please make sure your skin is wet when using the cleansing mode, and use it 2-3 times a week.
3. Don't use a skin scrubber on the damaged skin.
4. No washing, the facial scrubber isn't 100% waterproof.


EMS Microcurrent
Stimulates muscles to produce more ATP which is an important substance to form collagen. Under the effect of EMS microcurrent, the skin becomes more elastic.
More Than a Face Roller
This roller not only works great on your face but also neck, arms, and more! Treat your skin well every day.
The top benefits of 2-in-1 Beauty Device
Deep Cleaning & Sonic Vibration Technology & EMS Massage
Better than traditional blackheads remover, you don't have to open the pores before cleaning, but it will have a deeper clean effect if you stick to use it.


EMS Microcurrent Anti-aging Face Roller
Helps to improve facial contour & facial tone, etc.
Microcurrent - One of the hottest innovations in the anti-aging industry.
It is a low-level current that mimics the body's natural current and can provide both instant and cumulative anti-aging results.
Many top spas and beauty parlors are using it for facial contouring, toning, and firming of aging skin.

Features:
304 ABS
EMS Two Rollers
Sonic Vibration Probe
Modes Adjustment
USB Charging
Dustproof Cover
8Pcs Blackhead Acne Remover Comedone Extractor Tweezers Tool Kit - (with Box)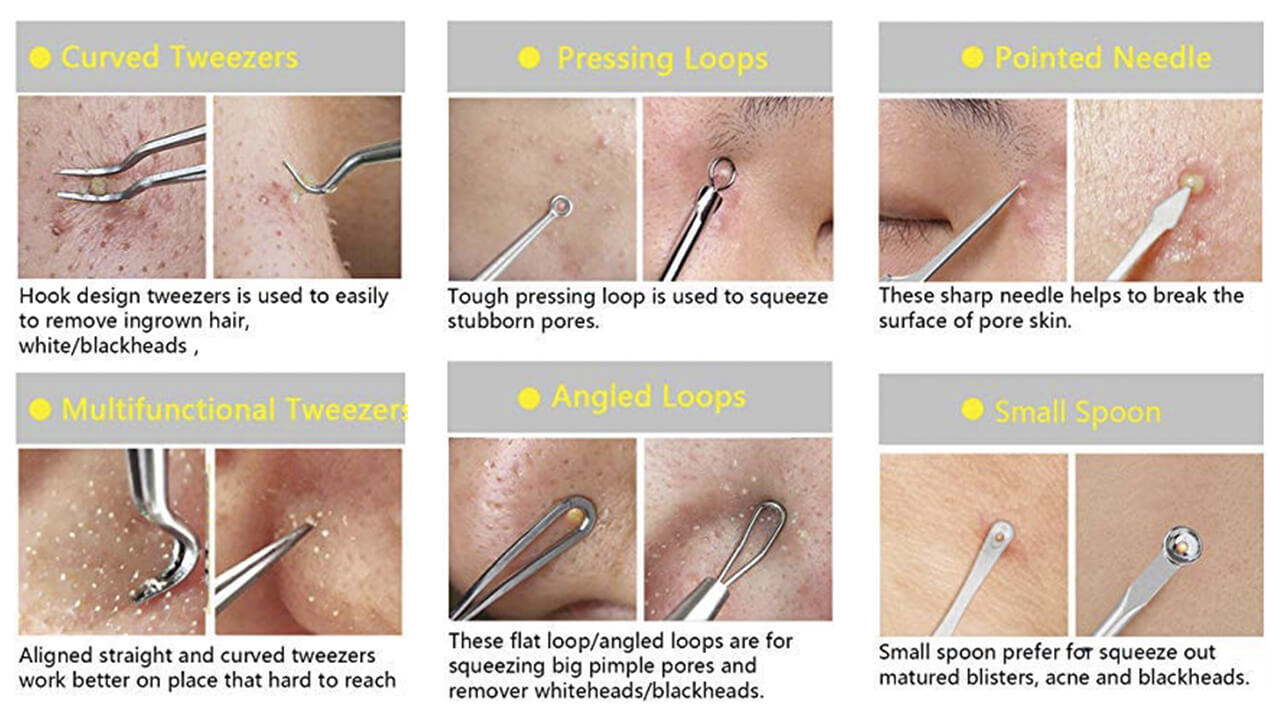 2 PCS Silicone Face Mask Brush- Suitable for sensitive skin face and body



100% Natural 10-Count Compressed Facial Sponges - (Reusable)


Compressed: 2.6" (65mm) in diameter and 0.04" (1mm) in thickness.
Hydrated: 2.9" (73mm) in diameter and 0.4" (10mm) in thickness.



Do you offer return and warranty for your items?
Do you offer warranty for your items?
All the product comes with a full one year warranty against manufacturer defects. It does not include damage caused by misuse, accident, abuse, neglect or other external causes. Buyer pay for the postage on the return item and we pay for all resend postage costs. If the item defect within 30 days, we will also responsible for the return shipping fee.
Can I return my product?
We always aim for make sure our customers love our products, but if you do need to return an order, we're happy to help. Just email us directly and we'll take you through the process.